Admin Interface
The Admin Interface allows you to manage which users have access to Zednet and what reports they receive. It also allows you to administrate hardware assets, data channels and sources, as well as the geographical organisation of your system in Zednet. In this section we begin by explaining how the admin interface is organised, and give a basic summary of how to use its most general features. We then go on to describe in more detail the admin interface's primary features, namely: Users and Clients, Reports, Sites, Assets and Channels, Sources and Geographic Groups
In the navigation panel on the left hand side of the screen you will see the three primary sections of the admin interface, namely: Users, Hardware and Domain. Each of the primary sections has a number of sub-categories, for example the sub-categories under Hardware are: Sites, Assets, Channels and Sources.

The Admin Interface's navigation panel

By selecting any of these sub-categories you will see a list of records relevant to that category in the centre of your screen. For example if you click on the Sites category, a list of your client's sites will be displayed.
You can then add and delete records by simply clicking on the add and delete buttons. You can also view the properties of an existing record just by clicking on it.
You will notice the properties of a record are immediately displayed on the right hand side of your screen. We call this the properties panel. For example, if you select one of the sites under the Sites category, you will see additional information including its geographic co-ordinates displayed in the properties panel.
You can then directly edit this information by clicking on the appropriate value in the Value column of the properties panel. For example, if you wanted to change the name of a site, you would simply click on its name in the Value column and type in your new site name.
In this way you can add, delete and edit information from the highest to the lowest level within your management system.
Note: The Sources sub-category does not contain a properties panel. Sources are simply edited by double-clicking on a source in the list.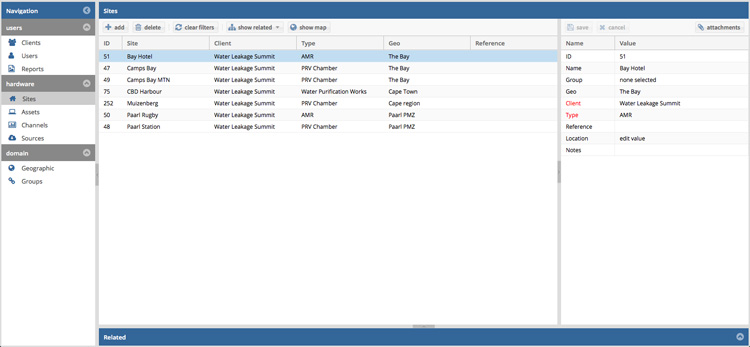 Organisation of the Admin Interface: Navigation panel on the left, records panel in the centre and properties panel on the right